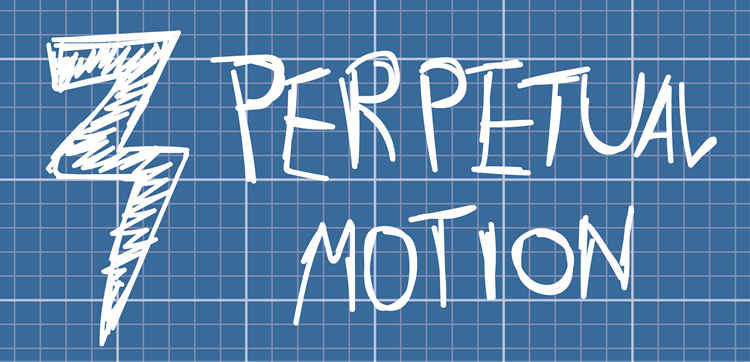 Perpetual Motion
Scientists often classify perpetual motion machines according to the thermodynamics law they violate. However, you, an aspiring revolutionary mechanical engineer, do not believe in this sort of stuff. Your goal in Perpetual Motion is to try to create an eternal self-charging electric circuit by moving around your ideas and projects as long as your energy levels allow it.
Perpetual Motion is a print-and-play card game for 1 player. You just need to download the PDF, print 2 A4 sheets (+ rulebook) to play. The rulebook is available in English and Brazilian Portuguese.
Em Português
Cientistas classificam as máquinas de moto-contínuo de acordo com a lei da termodinâmica que elas violam. Mas você, um aspirante a revolucionar a engenharia mecânica, não concorda com esse tipo de gente. Sua missão em Perpetual Motion é tentar criar um circuito de energia que se retroalimente para sempre, movendo suas ideias e projetos de um lado pro outro (ou enquanto sua energia permitir).
Perpetual Motion é um jogo de cartas imprima-e-jogue para 1 jogador. Você só precisa baixar o PDF, imprimir 2 folhas A4 (+ manual) pra jogar. O manual está disponível em Português do Brasil e Inglês.
Download
Click download now to get access to the following files:
Perpetual Motion | PnP version
1 MB
Perpetual Motion | Rulebook (English)
1 MB
Perpetual Motion | Manual de Regras (Português)
1 MB