Suit Express
A downloadable board game
Tripulações dos quatro naipes, avante! Em Suit Express, a sua missão é coletar cartas de baralho e entregá-las nas estações de cada naipe. O jogo pode ser jogado com 3 ou 4 jogadores e precisa apenas de um baralho convencional (52 cartas), um peão/marcador para cada jogador e o tabuleiro do jogo impresso (é apenas uma página A4!).
Crews of four suits, forward! In Suit Express, your mission is to collect playing cards and deliver them at the corresponding suit Stations. The game can be played with either 3 or 4 players and only requires a conventional playing cards deck (52 cards), a token/marker for each player and a print of the playing board (only 1 A4 page!).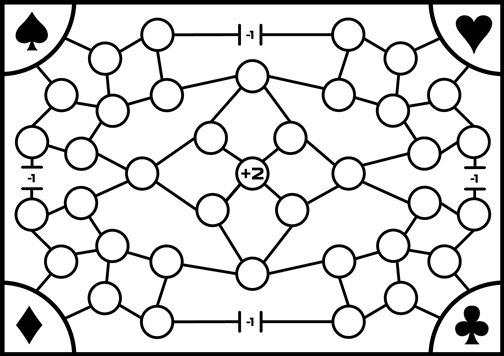 Design de Jogo/Game Design: Gabriel Toschi, David Rodrigues
Made for Ludum Dare 44 | Theme: "Your Life is Currency"
English Translation: Abner Santos
Agradecimentos/Playtests: Henrique "Nintendo" Matarazo, Abner Santos, Gabriel Moura,
Willian "Binário" Leodegario e todo mundo que estava na sala com a gente!
Download
Click download now to get access to the following files:
Suit Express • English
345 kB
Suit Express • Português (Brasil)
346 kB